Automatic (ACH) Loan Payment
Everyone that has a loan with Columbine is also a member with a savings account and has the ability to set up online access for FREE. Payments on any Columbine loan can be made with a Columbine account by logging into Online Banking.
Once logged in, click on transactions, click on funds transfer, and set up the transfer from your account. Payments post immediately for free to your loan on the day you select, allowing you the luxury of last minute payments without fees.
To transfer funds from another financial institution to a Columbine loan, click on transactions and then on add external account. Fill out all the necessary information and follow the instructions to link your outside account to Columbine.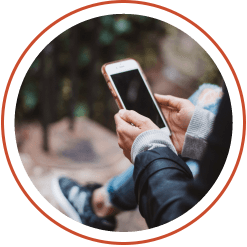 This was previously named Loan Payment Center
It is a hosted, secure service that provides you with options for making a loan or credit card payment. The main difference between this service and online banking is the ability to use your debit card. This is a third party not operated by the credit union.
This service has a convenience charge of $10.00 per transaction.
Automatic (ACH) Loan Payment
An ACH payment is a scheduled transaction from your chosen account to you loan on a certain day each month that can be set up for FREE. It is a great way to make sure that your payments are posted on time!
If you would like to set up an ACH automatic loan payment, please fill out an ACH form. You can return the form by fax, email, or to any of our branch locations.
Fax: (303) 795-7751
Email: [email protected]
Receive Payment Reminders with PayPrompt™​
Do you find yourself missing payments for no reason other than that you forgot? We have your solution! PayPrompt™ is the free* payment reminder program that speaks your language – text!
With this awesome program, you'll be able to quickly check an account balance, receive payment reminders and keep track of due dates.*
You should have received a message from the number 32576 on October 1. Don't worry, it's not spam, it's us! It will look something like this:
Be sure to reply YES to opt-in and start using this great service!
If you miss the first text and want to sign up later, don't sweat. All you have to do it text ColumbineFCU to 32576.  You'll then be asked to opt-in by replying YES.
*Messaging and data rates may apply.
Call Columbine at (720) 283-2346 to make loan payments over the phone.
This service has a processing fee of $20.00 per transaction.
All loan payment checks should be mailed to:
4902 E Dry Creek Rd. Centennial, CO 80122.
Please be sure to include your membership number and loan number on the check.
You can personally deliver your loan payment  to any of our branch locations for FREE! Or visit one of our shared branch locations. A shared branch is probably closer than you think, with over 100 in the Denver Metro area alone! Click here to find a shared branch near you.